Liste des articles pour le tag : Arduino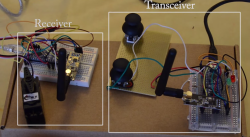 I am building a RC sailboat from scratch. As I am a little crazy, I want to build the RC parts myself as well.
The idea is to drive a servo motor with an Arduino wirelessly.
The best chip to do wireless things easily is the nRF24L01 2.4GHz transceiver from Nordic Semiconductor. It is cheap and works seamlessly with Arduino platform.
Lire la suite...